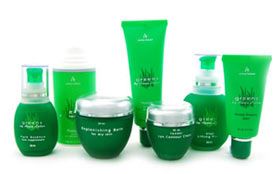 A younger looking skin is not expensive, it's priceless!
The wealth of functional nutrients naturally present in grain sprouts such as Wheatgrass and Buckwheat motivated the formulation of greens! Concentrated sprout extracts add vital nutrients and trace elements to give the skin a rejuvenated appearance. greens is so much more than a cosmetic alternative for the trendy fashion of anti wrinkle injections. The products offer effective, long term, safe and luxurious skin rejuvenation for normal to dry skin. The best quality care ingredients in cosmetology have been inspired by the biological compositions naturally present in the human skin. These compositions, often depleted by age, usually enjoy an excellent skin tolerance and are easily absorbed by the skin. Many of the greens ingredients have been selected according to this principle in order to provide products particularly kind to the skin. greens was especially designed for a mature skin that would benefit from a skin care program which offers an immediate effect on appearance.

Seabuckthorn was known for centuries in many northern countries (Siberia, Tibet, Mongolia and Scandinavia for example) as a skin care remedy and nutritional supplement with restorative activity. Its botanical name: Hippophae - "shiny horse" - may tell us how the ancient Greeks used it in a special diet for race horses. Seabuckthorn has been traditionally utilized to promote healing of skin injuries and to improve the conditions of mucous membranes of the gastro-intestinal tract. The berries of this shrub are rich in vitamins and nutrients and are therefore associated with regeneration. In fact, its vitamin content is much higher than any other cultivated fruit or vegetable. The oil helps to combat skin dryness, wrinkles and signs of premature aging. The yellow-orange berries contain more than 100 different nutrients, bioactive substances including phytosterols, water soluble vitamins (such as B1, B2, C, P, Folic acid and K) and oil soluble vitamins such as A and E, EFA (80-95% essential fatty acids), free amino acids, alpha and beta carotenes, Lycopene, and Zeaxanthin which all contribute to the rich golden orange color of the berries and the oil itself, hence the name Liquid Gold.

All products used are can be found on the above website for full descriptions